Special Feature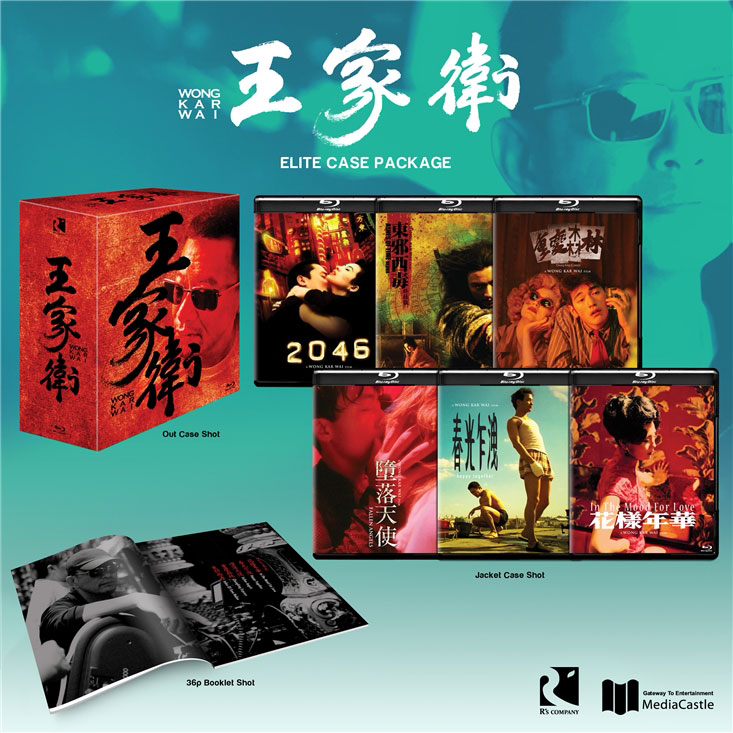 - Chungking Express Theatrical Trailer (02 : 24)
- Fallen Angels Theatrical Trailer (02 : 43)
- Happy Together Theatrical Trailer (01 : 31)
- In The Mood For Love Theatrical Trailer (03 : 19)
- 2046 Theatrical Trailer (02 : 24)
- Ashes Of Time Redux Theatrical Trailer (02 : 14)
Additional information
In the mood for love
Set in Hong Kong, 1962, Chow Mo-Wan is a newspaper editor who moves into a new building with his wife. At approximately the same time, Su Li-zhen, a beautiful secretary and her executive husband also move in to the
crowded building. With their spouses often away, Chow and Li-zhen spend most of their time together as friends. They have everything in common from noodle shops to martial arts. Soon, they are shocked to discover that their
spouses are having an affair. Hurt and angry, they find comfort in their growing friendship even as they resolve not to be like their unfaithful mates.


Chungking Express
Wong Kar-Wai's movie about two love-struck cops is filmed in impressionistic splashes of motion and color. The first half deals with Cop 223, who has broken up with his girlfriend of five years. He purchases a tin of pineapples with an expiration date of May 1 each day for a month. By the end of that time, he feels that he will either be rejoined with his love or that it too will have expired forever. The second half shows Cop 663 dealing with his breakup with his flight attendant girlfriend. He talks to his apartment furnishings until he meets a new girl at a local lunch counter


Ashes of Time Redux
Ou-yang Feng (Leslie Cheung) lives in the middle of a desert, where he acts as a middle man to various swordsmen in ancient China. One of those swordsmen is Huang Yao-shi (Tony Leung), who has found some magic wine that causes one to forget the past. At another time, Huang met Mu-rong Yin (Brigette Lin) and under the influence of drink, promised to marry Mu-rong's sister Mu-rong Yang. Huang jilts her, and Mu-rong Yin hires Ou-yang to kill Huang. But then Mu-rong Yang hires Ou-yang to protect Huang. This is awkward, because Mu-rong Yang and Mu-rong Yin are in reality the same person. Other unrelated plot lines careen about. Among them is Ou-yang's continuing efforts to destroy a band of horse thieves. Oy-yang recruits another swordsman (Tony Leung, but the other one), a man who is going blind and wants to get home to see his wife before his sight goes completely. The swordsman is killed. Ou-yang then meets another swordsman (Jackie Cheung) who doesn't like wearing shoes. Oy-yang sends this man after the horse thieves, with better results. We then find out what a man must give up to follow the martial path.


Happy Together
Yiu-Fai and Po-Wing arrive in Argentina from Hong Kong and take to the road for a holiday. Something is wrong and their relationship goes adrift. A disillusioned Yiu-Fai starts working at a tango bar to save up for his trip home. When a beaten and bruised Po-Wing reappears, Yiu-Fai is empathetic but is unable to enter a more intimate relationship. After all, Po-Wing is not ready to settle down. Yiu-Fai now works in a Chinese restaurant and meets the youthful Chang from Taiwan. Yiu-Fai's life takes on a new spin, while Po-Wing's life shatters continually in contrast.


2046
He was a writer. He thought he wrote about the future but it really was the past. In his novel, a mysterious train left for 2046 every once in a while. Everyone who went there had the same intention.....to recapture their lost memories. It was said that in 2046, nothing ever changed. Nobody knew for sure if it was true, because nobody who went there had ever come back- except for one. He was there. He chose to leave. He wanted to change.

Fallen Angels
A disillusioned killer embarks on his last hit but first he has to overcome his affections for his cool, detached partner. Thinking it's dangerous and improper to become involved with a colleague he sets out to find a surrogate for his affections. Against the sordid and surreal urban nightscape (set in contemporary Hong Kong), he crosses path with a strange drifter looking for her mysterious ex-boyfriend and an amusing mute trying to get the world's attention in his own unconventional ways.