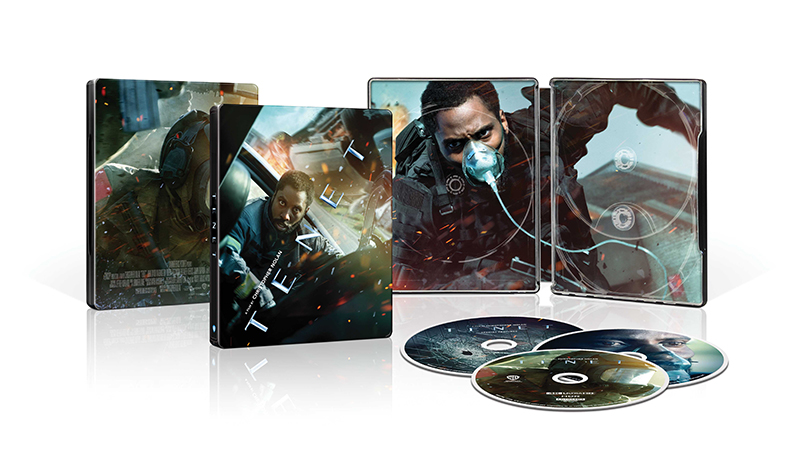 [2D BD]
-Full audio: DTS-HDMA 5.1: English, Dolby Digital 5.1: Czech, Hungarian, Mandarin, Polish (VO), Thai
-Full subtitles: Korean, English SDH, Arabic, Bulgarian, Chinese, Cantonese, Czech, Portuguese, Greek, Hungarian, Polish, Romanian, Thai
Special Features
- LOOKING AT THE WORLD IN A NEW WAY: THE MAKING OF TENET <테넷> 메이킹 스토리 (76:13)
I. THE PRINCIPLE OF BELIEF (04:06): 제1장: 믿음의 원리
II. MOBILIZING THE TROUPE (06:35): 제2장: 출연진 집결 과정
III. THE APPROACH (04:40): 제3장: 접근법
IV. THE PROVING WINDOW (04:46): 제4장: 식별 창
V. THE ROADMAP (05:06): 제5장: 로드맵
VI. ENTROPY IN ACTION (10:48): 제6장: 엔트로피 액션
VII. TRAVERSING THE GLOBE (12:28): 제7장: 세계 횡단
VIII. HOW BIG A PLANE? (04:48): 제8장: 얼마나 큰 비행기인가?
IX. THE DRESS CODE (03:52): 제9장: 복장 규정
X. CONSTRUCTING THE TWILIGHT WORLD (05:27): 제10장: 황혼 세계의 건설
XI. THE FINAL BATTLE (04:11): 제11장: 최후의 전투
XII. COHESION. (05:37): 제12장: 결속력
XIII. DOESN'T US BEING HERE NOW MEAN IT NEVER HAPPENED? (03:49): 제13장: 지금 여기 없다고 일어나지 않았다는 뜻인가?
- Teaser (01:08)
- Trailer 3종 (08:29)
* Special Feature Audio: English
* Special Feature Subtitles: Korean, English SDH, Spanish, Czech, Dutch, Portuguese, German, Greek, Hungarian, Italian, French, Polish, Chinese, Thai